hey i know its last minute but the southwest allen county fire district fire department is having a benefit nelsons chicken fry till 2 pm today if anyone wants some chicken. they are over on old trail rd in waynedale by the scotts/kroger store.

its for one of the fire fighters, Tim White.
tim has been on the Dp for around 20 yrs. kat and i both were on the Dp with this guy. he just found out in the last yr he has colon cancer and only has about a 15% chance of makin it another 5 yrs. tim has been a dispatcher for the state police and the city of ft wayne pd for many yrs also.

i just found out about this and figured i post it up. it only lasts till 2pm or till they run out of the rest of the dinners. only about 140 left i guess.
_________________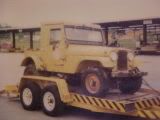 A Veteran - whether active duty, retired, national guard or reserve - is someone who, at one point in their life, wrote a check made payable to "The United States of America", for an amount of "up to and including my life."